Submitted by

Jeff

on Thu, 03/23/2017 - 17:56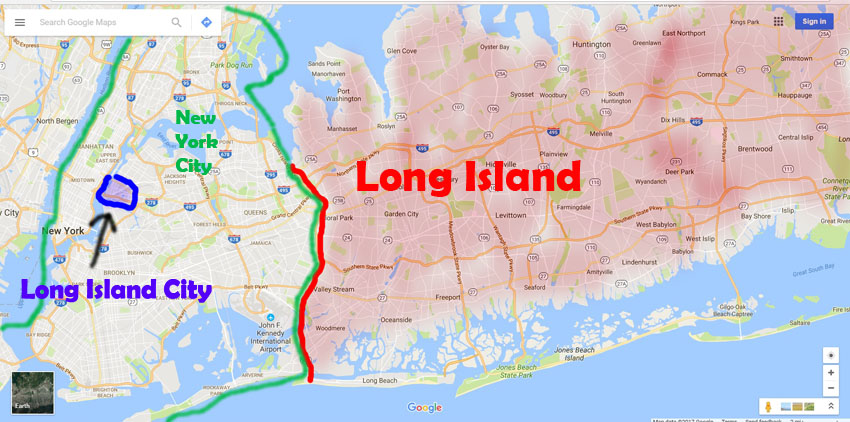 Where is Long Island City?
Long Island City is a neighborhood in the borough of Queens, New York City. 
Long Island City is not part of the suburbs beyond NYC's boundaries.
The name 'Long Island City' can be confusing - because the name suggests that it a suburban community outside of New York City's boundaries. The name suggests that it is on Long Island (which refers to the rest of the island aside from Brooklyn and Queens). But this is incorrect - Long Island City is in Queens.
Above is a map showing the location of Long Island City. It clarifies where the neighborhood of LIC is situated in relation to the suburbs of Long Island.
Further down below are subway directions to Long Island City.
Gantry Plaza State Park in Long Island City
Why does the neighborhood have such a confusing name?
The reason that the neighborhood is called Long Island City is the following: Before 1898 the county of Queens was not part of New York City (which was only the island of Manhattan and part of the Bronx). Areas that are now part of Queens were independent municipalities, and the whole county was considered part of Long Island.
Queens county covered a large section of the island (approx. 550 miles²/1420 km²). Among the numerous towns and villages (including Flushing, Jamaica and Hempstead) there was a 'county seat,' which was the civic center for the county. This is where the court, jail, etc were located. As you can imagine, Long Island City was the county seat (though not for the entire time). This is why there is an area called 'Court Square' (and a subway station by that name).
Long Island City was established as a full-fledged city (by consolidating several neighboring villages and hamlets) in 1870. Then in 1898 it was consolidated into the Greater City of New York. At that time, approx. 2/3 of Queens county was separated and established as 'Nassau County' - which did not become part of NYC. The section of Queens county that remained (now only 1/3 the size) became the borough of Queens.
From colonial times, 'Long Island' referred to communities and farms on Brooklyn and Queens. After the 1940's there started to be a buildup of new residential suburbs further on the island, outside the city boundaries. From that point, 'Long Island' came to refer to the suburbs outside the city, and no longer referred to Brooklyn and Queens.
Directions to Long Island City
Long Island City is a popular new area because it is accessible by many subway lines. Travel time from Midtown Manhattan is only a few minutes.
Here are the subway lines that go into Long Island City, and the stations that are located in the neighborhood.
7 Line - Vernon Boulevard/Jackson Avenue, Hunters Point Avenue, Court Square, Queensboro Plaza
E and M lines - Court Square, Queens Plaza
N and W lines - Queensboro Plaza
F line - 21st Street - Queensbridge
G line (from Brooklyn only - cannot be picked up in Manhattan) - 21st Street, Court Square
Please note: There is a station called Queensboro Plaza. There is also a different station called Queens Plaza. The two stations are right next to each other. But there is no free transfer between them.
---
Enjoyed this guide? Make a charity donation
This guide is provided for free. To show appreciation, please donate to the following nonprofit agency which supports low-income Brooklynites: St. Nicks Alliance. Your donation will support affordable housing, educational programs and job training. Thank you in advance!
Tours of Long Island City
Interested in a guided tour around LIC? We offer a Private Long Island City Walking Tour which can be scheduled at any day/time of your convenience.
Save 10% by mentioning code 'blogdiscount.'
Here are some other useful guides:
Bushwick Collective: Unofficial Visitor Guide + Map
How to Take The Subway to Brooklyn
© Copyright Jeffrey Stirewalt 2017